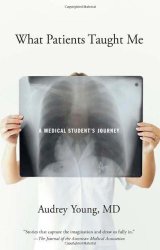 What Patients Taught Me by Dr. Audrey Young was an incredible look into medical school rotations. Dr. Young spent her rotations in drastically different places from Seattle hospitals to rural clinics to Africa. Each place had different stories and different people. Each story touched me a different way and gave me insight into what it means to be a doctor.
This book was full of true stories, some I couldn't even believe happened to real people. But they did. And that is what makes this book so powerful. Everything in it is real. These are real people. Real people who were sick and either made full recoveries or went on to a better place. I cried, and I laughed. It made me feel a wide range of emotions. It was truly invigorating.
I devoured this book and wished I had read it slower so that I could have digested each story more before rushing onto the next one. But it was so captivating that I couldn't stop. I had to read about the next patient, the next place. I read this in one day, when I knew I definitely should have been studying for my exams.
My pre-med adviser suggested this book to me, and I'm glad she did. It was heartwarming and gave me a picture of what my medical school experience could be and maybe should be. I know I'll take this book with me when I go on to medical school and read it slower the next time around so that I can let each story engulf me and change me if only slightly.