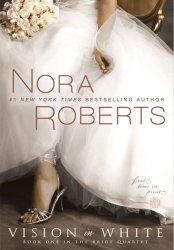 Vision in White by Nora Roberts was a wonderful story which encompassed two of my most favorite things: love and weddings. Mackensie Elliot, known by her friends as Mac, is a well-known wedding photographer for the company Vows which she and her three childhood friends run together to bring about perfect wedding days. Mac photographs couples and their families in their perfect moments but doesn't think she could ever have a happily ever after for herself.
Then Carter McGuire comes along, and he proceeds to surprise her over and over. With a clingy and manipulative mother and absent father, Mac doesn't have many role models in the way of successful and loving marriages. This makes Mac less than willing to start anything with Carter even though she's never had a man make her feel the way she does when she's with Carter.
Carter can't seem to get enough of her and only wants to show Mac how much she means to him and how much she's worth it despite everything she tries to tell him otherwise.
I fell in love with this book from the prologue when we see the four women as little girls playing "Wedding Day." Mac has many layers and was easy to like. Carter was adorable and the perfect match for Mac. I loved the backdrop of the wedding business and all the magic and hard work it entailed. I also love the friendship between Mac and her three friends. Nora Roberts was able to give each of the characters distinct personalities, even those who have very little part in the plot.
This is the first of four books, and I can't wait to read the next love story of one of the remaining single ladies at Vows.