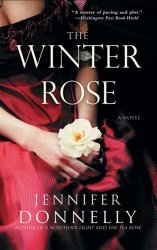 If you've visited my favorite books page, you will know that The Winter Rose by Jennifer Donnelly is one of my favorite books of all time. I absolutely love it and try to get everyone I meet to read it. So I thought I'd get you to read it too!
The Winter Rose follows India, a new doctor in late Victorian London, as she finds herself working in a poor hospital while trying to navigate the political arena with her fiancé Freddie. When she meets infamous mob boss Sid Malone, India creates a new enemy for herself, but is he really her enemy? Life always seems to throw things at India, and it is her courage and strong nature which get her through.
To read more about the book, check out my review here: The Winter Rose Book Review
Now for the giveaway! I love this book so much that I want to give one lucky reader the opportunity to own and read this wonderful book. All you have to do is follow the link below and enter your name and email address. You will receive an email to confirm your entry. This is to make sure that you have entered a valid email address. Once you confirm, you will be entered into the giveaway.
Once you enter, you are given a unique URL which you can share with your friends and family via Facebook, Twitter, email, and more. Each person who enters the contest through your unique URL will give you an additional 5 entries into the giveaway.
The contest ends at 11:59 PM CST on May 14, 2012. The contest winner will be randomly selected and receive an email saying he or she has won. Once the winner is confirmed, I will release the name of the winner via this blog, Twitter, Facebook, and email.
Good luck!
Click here to enter the giveaway:
http://scribblingbookworm.com/contest/the-winter-rose-giveaway