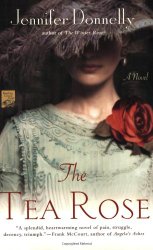 The Tea Rose by Jennifer Donnelly is the prequel to The Winter Rose. The Tea Rose is the story of Fiona Finnegan and Joe Bristow. Both work in a tea factory run by William Burton and are in love, after having grown up together. Fiona is very talented at her job and wants nothing more than to open her open business selling tea with Joe. Just as things seem to be going well, Fiona's life is torn apart. Her father is murdered for trying to start a union, her mother is brutally killed by Jack the Ripper, Joe is ripped away from her and tricked into a loveless marriage, and her brother Charlie is found dead in the river Thames. Fiona finds her life in danger when she tries to gain compensation from Burton for her father's death and overhears how he plotted to kill her father. Fiona wastes no time in getting her younger brother Seamie and leaving the country as quickly as she can with the aid of Nicholas Soames.
Fiona runs to the only relative she knows is still alive, but when she arrives at her uncle's apartment in New York, she finds a shell of a man, heavily in debt as he mourns the loss of his wife and child. Having nowhere else to go, Fiona has no choice but to rebuild her uncle's grocery business. She is more than successful and finds a way to come back to exact her revenge on the man responsible for her father's death.
I loved this book as much as I loved the sequel. Fiona is such a strong character that I couldn't help but emphasize with her. She is determined and will do everything she can to accomplish her goal. She takes terrible situations and turns them around so that she comes out better off. The characters are all believable, and I couldn't help but love Joe even through all the mistakes he made. The settings were realistic and added wonderfully to the story. I cannot wait to read more by this author. She is wonderful!