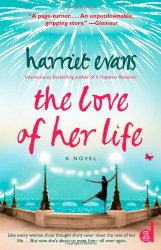 The Love of Her Life by Harriet Evans was another novel I loved by this author. Kate Miller has run away from her life to New York to live with her mother and stepfather. Three years after a broken engagement and the loss of her job, Kate returns to her home in England when her father falls ill. She must face what she left behind and the events that drove her away.
The novel switches between the past and present, and with each flashback, we get closer to finding out the reason for Kate's hasty departure to New York. The big question is whether she is ready to face her problems to continue on with a life which has reached a standstill. Kate is a strong character whom I couldn't help rooting for.
I really enjoyed this novel. I read and loved
A Hopeless Romantic
by the same author and was eager to read this one. I enjoyed it almost as much. The mystery kept me reading, and I laughed as much as I wanted to cry. I would recommend this to everyone, especially those who have read and enjoyed her other novel. I'm eager to read more by her.