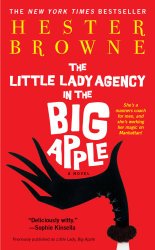 The Little Lady Agency in the Big Apple by Hester Browne is the continuation of The Little Lady Agency. Melissa and Jonathon have finally gotten together. Jonathon has been moved back to New York, and Melissa reluctantly hands her agency over to her friend Gabi and her sister Allegra to spend a month in New York with her boyfriend. Melissa heads to the Big Apple hoping that she has a business to come back to.
She also worries about how Jonathon's friends are going to react to her. Melissa is thrust right into the midst of New York, meeting person after person. She finds her vacation being taken over by a spoiled dog and a fellow British actor she snogged once back in the day. Melissa finds herself torn in all directions as she tries to juggle the people of New York, her absent boyfriend, and what might be happening to her agency back home.
I love Melissa! And I feel so bad for her because she is too nice to turn anyone down who needs her help. She ends up getting taken advantage of and being taken for granted. She finds herself in hilarious situations such as a fist fight in a park over a dog.
Melissa is a very endearing character, and I just love reading about her. Jonathon got on my nerves a bit in this one because he seemed to be trying to mold Melissa into someone she isn't. I could feel Melissa's frustration at times and wanted to give him a nice big kick. This was a great second book in a series. I enjoyed it as much as I enjoyed the first. The third one (The Little Lady Agency and the Prince) is great as well so don't forget to check it out too!