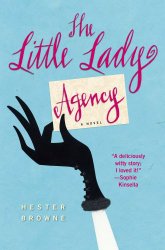 The Little Lady Agency by Hester Browne was just the sort of book I needed right now. It was fun and imaginative. Melissa Romney-Jones knows her way around any social situation, and her etiquette is fit for a queen. When she gets laid off her job at a real estate agency, Melissa doesn't really know where to go next. Her father, an arrogant and conniving politician, is calling in on the money he lent her so Melissa knows she needs to work on getting out of her father's debt so she can be free of his overbearing ways.
After a disastrous few days at a supposed high class escort agency, Melissa decides she needs to embark on her own, and thus the Little Lady Agency is born. Melissa only needs to don her blonde wig to be transformed into Honey, the girl that will show up to functions as a man's dates and will overhaul his wardrobe. And as Honey, Melissa can be the sexy, sassy woman she has always dreamed of being. When she starts to feel more for one of her clients, she wonders where Honey ends and Melissa begins.
Melissa is such a wonderful character. She has a heart of gold, and her subconscious nature and family problems makes her come to life in such a realistic manner. I enjoyed seeing her as honey and overhauling these men who wouldn't know their left shoe from their right. She makes for a character you can't help but care about and sympathize with.
Melissa really comes into her own as she deals with being taken advantage of by her ridiculous family and running her own business. Her friends, Nelson and Gabi, are great in giving glimpses of Melissa when she has her guard down. Although she comes off as strong and self-reliant, Melissa is not as confident and self-assured as she appears with her blonde wig on and her Honey persona in place.
I really did love reading this novel, and the two following in the series (The Little Lady Agency in the Big Apple and The Little Lady Agency and the Prince) which I will review in future posts. I'm so glad that I discovered Hester Browne! She really is a great and imaginative author whom I can't seem to get enough of now that I've found her! If you've already read this book series by her, I would encourage you to check out Swept Off Her Feet and The Finishing Touches which I also greatly enjoyed!