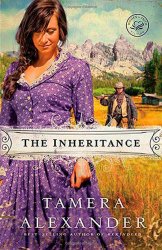 The Inheritance by Tamera Alexander reminded me a lot of Dr. Quinn: Medicine Woman in regards to the time period. McKenna Ashford is trying to start over with her younger brother Robert. The two move west to join their cousin and her family, but it seems as if nothing is going to go as planned as McKenna encounters one surprise after another.
McKenna especailly doesn't expect to meet U.S. Marshal Wyatt Caradon. He seems instantly drawn to her even though he's not sure if he should risk his heart again. And although McKenna finds his attractive, she wants nothing more than to get him out of their lives. As McKenna struggles to take care of her brother and the new hand life has dealt her, she finds herself relying on Wyatt a little more than she would like.
I really liked this novel. The characters were strong and well-written especially McKenna. I loved how each character had a different way of dealing with the hard situations which are continuously thrown at him or her. I thought Tamera Alexander portrayed this time period well. I got a good taste of the beginning prejudices against certain races and how other cultures were viewed during this time period. It was very enlightening.
This was my first book by this author, and I picked it up on a whim. I'm glad I did. The story was full of good family values which I think some other novels lack. I looked and saw that this was the first in a series of books so I'll probably be checking out the next one once it's released.