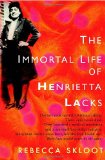 The Immortal Life of Henrietta Lacks by Rebecca Skloot is the story of Henrietta Lacks, the woman whose cells gave rise to the immortal cell line HeLa. Rebecca Skloot tells the story of Henrietta Lacks and her family right along side the story of the HeLa cells. As we learn more about Henrietta's life, we learn more about what HeLa cells have contributed to the scientific community.
Henrietta Lacks died from ovarian cancer, but not before some of her tumor cells were removed and grown in culture. Her family never knew her cells lived on and were responsible for so many medical advances including the polio vaccine. Rebecca Skloot not only learned about Henrietta from her family but also taught the Lacks family about HeLa.
I thought this was a wonderfully written book. I didn't want to put it down once I picked it up. It was fascinating to learn about Henrietta Lacks and her family along with how HeLa cells have impacted the scientific community. I'm so glad Rebecca Skloot went through the effort to get to know the woman behind these cells and help her family understand the impact these cells have had. I would recommend this book to everyone but especially those in the scientific community.