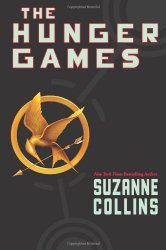 I imagine many of you have heard of this book and the series, and many more will discover it as the movie premiere draws closer. I heard about these books a while ago, but never really looked twice at them. I had no idea what they were about. It was not until I saw the link to the movie trailer posted in my friend's status that my interest was really piqued. This happens to me often it seems. I've heard of a book, but only really become interested in it after I see it's going to be a movie. I have this thing where I like to read books before I see a movie whenever possible. I almost always do so this was not much different. I watched the trailer and was immediately intrigued. I couldn't wait to read the book and its sequels.
The Hunger Games
is the first book in the series and introduces us to Katniss Everdeen, a sixteen year old girl, who is living in District 12 in Panem which is located in what was once called North America. Every year two tributes, one boy and one girl, are chosen from each district to participate in The Hunger Games, an event designed by the Capitol to punish the districts for rebelling almost seventy-five years ago. The rules of the game are simple: kill or be killed. When her younger sister is chosen as the female tribute, Katniss does not hesitate to volunteer to take her place. Katniss is whisked away from the only home she knows to compete against twenty-three other children ranging in age from twelve to eighteen.
To say I devoured this book is a bit of an understatement. The only reason I put it down was because I was so exhausted I couldn't keep my eyes open a minute longer. This is a hazard to starting this book late at night after a busy Christmas Eve. There is so much more to this book than a teenage girl forced to fight for her life. There are so many themes and statements about the dangers of power and class systems that give this book such depth. Katniss is a strong leading character, and it is easy to walk around in her shoes and see the world from her point of view. This book is a real page turner and one I would recommend reading when you have a good chunk of time to read it all the way through because, trust me, you're not going to want to put it down once you start. I know I didn't.
I thought about reviewing all three books in this one post but realized that I could be giving away a lot of spoilers to those who intended to read the series. Therefore, look for upcoming posts on Catching Fire, and Mockingjay in the days to come.
Until next time, happy reading!