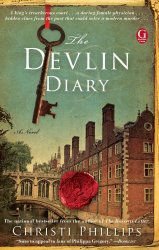 I loved The Devlin Diary by Christi Phillips. Claire Donovan has just made her way to Cambridge and is looking for something to write her next paper on. She stumbles upon an encrypted diary and becomes intrigued.
The diary belongs to Hannah Devlin who practices medicine in the seventeenth century. She is unwillingly brought to take care of the king's favorite mistress. Soon several bodies start showing up with different symbols carved into their chests. Hannah and Dr. Edward Strathern find themselves on the trail of the killer.
Meanwhile in present time, Claire and Andrew Kent, a Cambridge Fellow, are on the trail of another killer when one of their colleagues is murdered. The diary appears to be an integral part in finding both the killer in the present and the killer in the seventeenth century.
This is the sequel to
The Rossetti Letter
and one I have been waiting for ever since it was announced. I loved the first book and couldn't wait to read this one. And it did not disappoint. I loved how Claire and Andrew came back in the second book and how the past and present paralleled each other. It was wonderful. The characters were so well-developed that I felt like I knew them well.
The past was so vivid and alive. The mysteries kept me going from one chapter to the next as I tried to figure out who the two killers were and what their motives were. I also enjoyed the romance which was spread across the two centuries and served as an undertone to the intrigue. I couldn't get enough of this novel and cannot wait for her third novel whatever it may be!