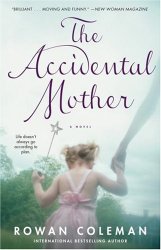 The Accidental Mother by Rowan Coleman is the story of Sophie, a woman who thinks she knows exactly what she wants in life and only figures what she truly desires once her life is turned completely upside down. After the death of her childhood best friend Carrie, Sophie becomes the guardian of her two children Bella and Izzy. Sophie who has never interacted with kids before is completely out of her element taking on the too grown up six-year-old Bella and the whirlwind three-year-old Izzy.
Sophie tries to juggle the two girls without losing her job and the promotion which doesn't seem all that far off. Throughout this, Sophie is being pursued by Jake, one of her American clients. She had been crushing on him for weeks, but now that his attentions are focused on her, she's not sure if he's really the man for her. Wanting the children residing in her apartment to be temporary especially after the demise of her makeup collection and several items of her wardrobe, Sophie hires a private detective to find the girls' absentee father Louis who left Carrie and Bella before Izzy was born.
I really enjoyed this book and found myself crying during the more touching moments. Sophie really grew on me as the book went on because she was incredibly human. Motherhood didn't come as naturally to her as it does to other people, and it was warming to see her try to adjust to the two girls suddenly in her life. She had no idea what she was doing as her many blunders show, but she finds ways to help both girls cope with their mother's death. All the characters in this novel are remarkably human. Each of them, even Louis has his layers.  This was a wonderful read about motherhood and coping with death that didn't become cliché or too unrealistic.