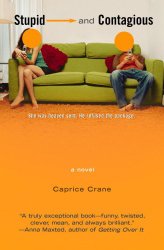 Stupid and Contagious by Caprice Crane was different from many of the books on this blog. Heaven loses her high paying PR job and ends up as a waitress where she has a hard time not talking back to rude customers. Brady struggles to keep his record label afloat and has just moved to Heaven's apartment building.
The two meet when Heaven brings over Brady's mail which has found itself to her instead. Brady is not impressed with his open mail and Heaven's forward personality. Heaven can barely stand Brady in return. The two continue to bump into each other and, as such, strike up a weird form of friendship. The two take a trip to Seattle and everything changes as Brady tries to pitch an idea to a large corporation and woo a band that just might be his salvation.
This story was quirky and a wonderful read. The chapters alternated between Heaven's and Brady's points of view and were sometimes as short as a sentence or a word. The dialogue was witty and funny. I couldn't seen to take myself away from the two. It was really nice to get to know both of the characters from two points of view. I loved seeing their attraction grow even when they didn't want to admit it to themselves.
Craprice Crane has a way with words as can be evidenced by her other novel
Forget About It
which I also loved. I can't wait to see more from her especially since it could be something completely different as her first two novels were from each other.