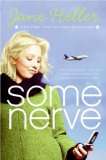 Some Nerve by Jane Heller tells the story of Ann, a hollywood reporter who does not have the killer instincts to play dirty in order to scoop the story. So when her new boss tells her she has to get the "big get" Malcolm Goddard who thinks all people of the media are "parasites." Ann tries to play dirty but ultimately fails and loses her job after she is unable to force herself to get over her plane phobia and conduct the interview in Malcom's Cessna.
Without her job, Ann moves back to her small hometown of Middletown, Missouri and into her child home with her mother who is afraid to leave the house, her aunt who can't get over the loss of her husband to a girl half her age, and her grandmother who is germaphobic and keeps a can of lysol on hand always. When a doctor at the town's only hospital lets slip in attempts to impress Ann that Malcolm is going to be admitted under an alias, Ann sees a way to get her job back. She decides to volunteer at the hospital handing out magazines and gleam an interview with Malcolm non-the-wiser.
But while volunteering, Ann finds that she is able to help others in a way she never was able to do before and begins to truly love her job and eventually Malcolm.
Even while Ann is lying to Malcolm and gathering enough information to write a story to get her much-loved job back, I couldn't help but love her. She was an incredibly giving and kind individual who questions herself from the very beginning about if she was doing the right thing by writing the story on Malcolm. And Malcolm starts as the typical Hollywood star who is used to getting everything he wants. But he too is able to grow after his touch with death. I almost like what Ann did in helping her mother and other patients than what she did with Malcolm because she seemed to truly touch their lives and make them feel just that little bit better.