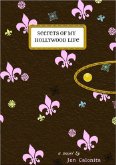 Secrets of my Hollywood Life by Jen Calonita is told in the point of view of Kaitlin Burke, famous teen actress on the soap Family Affair. She is about to go on hiatus and is almost completely burned out. Her family is just as ensconced in Hollywood life and see Kaitlin taking a break as career suicide. Kaitlin is tired of the backstabbing from her fellow castmate Sky Mackenzie and just wants to feel like a normal girl for once.
Kaitlin's solution is to enroll herself in disguise at her best friend's school Clark Hall. It takes a lot of convincing to get her parents, her assistant, and press coordinator on board. But soon she's entering the halls of Clark Hall sporting contacts, a wig, glasses, and a British accent as Rachel Rogers. There she learns what doing homework, having normal friends, and even crushing on a normal guy is like.
Although I enjoyed this book, I think I would have enjoyed reading it a few years ago. I didn't realize that it was more of a teen novel when I picked it up. But I think teens would really enjoy this novel. It gives them a chance to immerse themselves into the life of Hollywood with a teen actress who has a good head on her shoulders. The characters were fun to read about, and I loved to hate Sky.