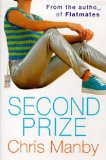 Second Prize by Chris Manby didn't quite live up to my expectations. Lara's best friend and roommate has just got engaged, and Lara feels like she's being left behind. She hasn't had any male prospects for awhile and is unsure she ever will. That is until the handsome Hugh Armstrong-Hamilton comes along. She falls for him hard and fast even accepting his last-minute date cancellations and insisting she pay for herself when they're out on dates despite his deep pockets.
Hugh is the ultimate prize, but Lara soon finds that she's only his second prize, using her when he and his longtime love are on the outs. And Lara cannot seem to get enough of him and keeps going back to him time and time again. In her blindness she's missing out on someone who has never and will never treat her as a second prize.
Lara was the only interesting character the book had to offer even though she was a bit stupid when it came to Hugh. None of the guys in this novel seemed to be a nice catch, not even Lara's roommate's future husband Andrew. I kept waiting for some great guy to come in and sweep her off her feet, but he never came. I had a lot more hope for this story and was let down a bit with the ending.