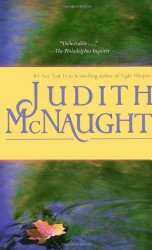 Remember When by Judith McNaught was the first non-historical novel I have read by her. Diana Foster and Cole Harrison met as teenagers. Cole worked as a stable hand for one of Diana's friends. The two become friends even though they came from incredibly different world. Several years later they meet again, only it's for drastically different reasons.
Diana is now the CEO of a family run business that brings the unique style of her family into the homes of Americans across the country. Diana is under incredible scrutiny, and when her fiancé of two years marries someone ten years younger, Diana finds herself humiliated and her business in serious jeopardy as a result.
Cole who has climbed his way from stable hand to hard, powerful CEO of a multi-billion dollar corporation needs to find a wife in order to keep half of his company from falling into incapable hands. Marriage between Cole and Diana seems the perfect solution. Cole gets his wife, and Diana saves the image of her company. But neither know if they can handle what comes after the wedding vows.
I have to admit that I was a little hesitant to read any of Judith McNaught's more modern fiction because I was afraid they wouldn't live up to the wonderful ones I've read so far. I was a little let down, but only because she didn't have as much buildup to the relationship between the two main characters. They seemed to overcome their hurdles a little too easily.
This is not to say that this wasn't a fantastic novel because it was. I thoroughly enjoyed reading it. Both Cole and Diana were characters of depth, and I truly cared for them and their happiness. The supporting characters were equally as detailed and enjoyable to read about. The writing was beautiful. And although this doesn't top Whitney, My Love, it is one I would recommend to all.