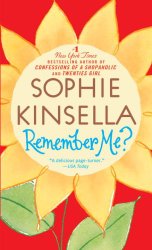 Remember Me? is one of my favorite books by Sophie Kinsella, well known for her series Confessions of a Shopaholic. The last thing Lexi Smart remembers is being out clubbing with her friends and falling in attempts to get a taxi. She wakes up only to find out that she can't remember the last three years of her life. Everything is different. She's married to a rich, gorgeous man. She's head of the entire flooring department at her company. And her friends won't talk to her.
Lexi struggles to remember something, anything in this new foreign life. But the more she lives her life, the more she realizes she's become someone she doesn't recognize, but she's not quite sure what happened to the old Lexi or how to get her back at least not in the midst of a husband who eats no toast and has written her a marriage manual complete with alphabetical index.
This book is filled with a whole slew of characters including Eric, Lexi's husband, who ends up not being quite as perfect as he seems. It was hard to see Lexi struggle with her memory loss but at the same time quite funny as she tries to rationalize the strange things her husband does. And I couldn't help but laugh when Lexi got herself into a situation that was way above her head that ended in near disaster. But Lexi really grew and came to terms with who she really was: a Lexi that wasn't necessarily who she had been for the past three years. I really enjoyed reading this book. There were some incredibly hilarious scenes along with some downright adorable scenes. It has a bit of everything.