So I've just discovered a great website that creates word clouds out of your writing. It's called Wordle. Basically what it does is make the words used the most the largest. It was interesting to see which words I use a little too often and which words I didn't use as much as I thought I did. I use the word "just" and "know" and "eyes" the most after my characters' names. So after spending a little too much time, I thought it would be fun to put in the text of Pride and Prejudice to see what words Jane Austen used the most. This is what I got!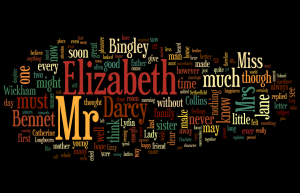 Obviously Elizabeth and Mr play a huge role. I like that "must" and "much" were big too.
So I encourage you to check this site out and let me know what words you use the most!