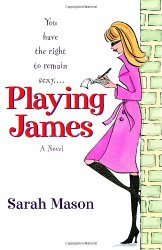 Playing James by Sarah Mason was hilarious. Holly was one of the most funny characters I've ever met. After single-handedly donating a seeing eye dog and part of another one due to her language, Holly decides that something else should be put in place. So instead of using the traditional four-letter words, Holly and the rest of her workplace has adopted the use of much hated vegetables. So it's hard not to laugh when she utters a "holy turnips" in the middle of an internal dialogue.
Holly has just been "promoted" to the less than desirable crime correspondent and finds herself paired up with one Detective James Sabine who has no desire to have him anywhere near him. They argue, the fight, and they want to be anywhere but near each other. But when a robbery turns into a series of robberies, the two find a way to work together.
I laughed so much when I was reading this book. Holly is hilarious! And she knows just how to rile James up. The tension between the two was wonderful and kept me wanting to read. The background story of the robberies wasn't cheesy and fit in perfectly with the main story. I couldn't get enough of this book and can't wait to read more by her.