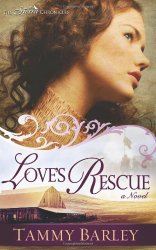 I absolutely loved Love's Rescue by Tammy Barley! The novel takes place during the Civil War which is mostly in the background of the story. Jessica Hale's family has recently moved to the Nevada Territory to escape the conflicts arising in Kentucky. But Jessica's brother Ambrose cannot leave his home so easily and goes back to help his hometown's militia defend his home. When Jessica loses contact with him, she'll do anything to find him, but finds herself in the middle of an angry mob who believes her to be sympathetic to the Confederacy when she tries to send a telegram in search of her brother whose militia had joined the South.
Jack Bennett, a rancher, steps in and saves her and later "kidnaps" her and brings her to her ranch to keep her safe from those who mean her harm. Jessica who once thought Jake admirable now thinks him despicable and tries everything she can to escape from him and return to her home. But Jake is not so willing to let her go, not when it could mean he would be losing the woman he is slowly falling in love with.
I couldn't stop reading this from the moment I picked it up. Jessica is fiery and independent. She is also caring and willing to help those around her. Jake is amazing to say the least. He shows nothing but respect for Jessica and "kidnaps" her not for his own pleasure but to keep her safe. He doesn't let her escape not because he wants to keep her trapped but because he knows the dangers that she would face as a woman on her own.
Jake and Jessica fit together well, and it doesn't take too long for them to figure it out. Neither, especially Jessica, are willing to admit it to the other. The characters were incredibly realistic and the story flowed seamlessly. Nothing felt contrived, and everything was revealed in a smooth manner. When I finished the last page, all I wanted was to read more and was more than excited to discover that a sequel is in the making. The instant it comes out, I'll be enjoying it thoroughly I'm sure!