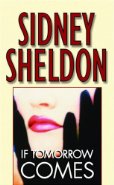 If Tomorrow Comes by Sidney Sheldon was interesting to say the least… Tracy Whitney is framed for stealing an expensive painting and finds herself serving a long prison sentence. She doesn't take anything laying down and fights back. Eventually being released to exact her revenge on those who put her in jail.
Each chapter after her escape details another adventure she has, many of which include an encounter with Jeff Stevens who is every bit as talented as she is in the less than legal activities they take part in.
I found this book laying on my floor and the summary seemed interesting so I started reading it. And to tell you the truth, I'm not quite sure why I kept reading it. I didn't like it one bit. Tracy is not the smartest woman, and I found her not very likable. She didn't have much depth. Neither did the story for that matter. There wasn't much conflict after she gets rid of the men who stick her in jail. I also thought some of the scenes were in poor taste and completely unnecessary.
There wasn't much of a plot to the novel. Each chapter could have stood alone and been read in any order really. There was only a thin thread tying them together. I have no idea how this book came to be in my room, and I'm sorry I read it.