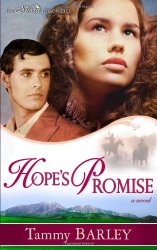 Hope's Promise by Tammy Barley is the second book in the Sierra Chronicles following Love's Rescue. The story of Jess and Jake picks up a few months after the last book left off. They are now happily married and back home on their ranch. Their life is not without problems though. Jake is worried that the life will become too hard for Jess to bear especially since they are in the midst of a terrible drought. He fears that he would not be enough to keep her at the ranch. Jess feels terrible because she believes that their long absence and idea to turn the ranch into a horse farm has jeopardized the ranch Jake has worked so hard to build. She also is in great pain about her seeming inability to conceive the child she so desperately desires.
The ranch is suffering with the drought and the illegal selling of half of their land while men are attacking the Paiute Indians who work and live on the ranch.
I completely devoured this book the moment I had it in my grasp. All the characters, even those secondary to Jess and Jake, are so well developed with such distinct personalities. I love the drive everyone has to make the ranch work and to protect the people who have made it their home against the prejudices and hatred of others. Jess and Jake are incredibly strong characters who fit perfectly together. Jake's patience and gentle manner perfectly balance out Jess's stubbornness and outgoing personality.
I loved watching their relationship grow as a married couple. I loved how they dealt with the problems with the ranch and their own inner problems. I also love how faith-filled they both are, never despairing for too long because they knew they were protected in God's hands.
This is an incredibly compelling book and just as good as the first. There are so many twists and turns and unexpected events to keep a reader interested. The characters are wonderful, and you can't help but fall in love with them, especially Jake! Though you don't necessarily have to read Love's Rescue to read this one, you would be missing out on a great book and the first chapter in the story of Jess and Jake.