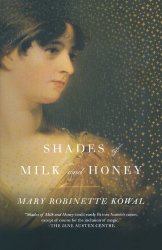 Shades of Milk and Honey by Mary Robinette Kowal is Jane Austen-esque book with a little magic twisted throughout. Jane Ellsworth is practically a spinster at eight-and-twenty and lives in the shadow of her younger sister's beauty. The only thing Jane believes she has going for her is her music and knowledge of glamour, the art of twisting the ether into tableaux. She delights in bringing life to paintings, rooms, and her music.
Jane finds herself at odds with her sister Melody who is not always the most sensitive with her comments. As a result, Jane finds herself becoming close friends with Miss Elizabeth Dunkirk and firmly in the sights of her brother Mr. Dunkirk. While Jane finds her feelings for Mr. Dunkirk growing deeper, she is not sure if he can look past her too sharp nose to the woman she is beneath.
And let us not forget the mysterious and sullen Mr. Vincent, a famous glamourist who has been hired by the Ellsworths' neighbors to create a grand glamural. Mr. Vincent and Jane seem to bump heads at every meeting, and Jane can not understand what she has done to so offend the man.
I thought this was a nice light read. I wish I would have gotten a little more out of Mr. Vincent by the end of the novel. I felt his character was somewhat flatter than I would have liked. I liked the play of glamour throughout the novel. It added a nice hint of whimsy to the story and was something I much needed!