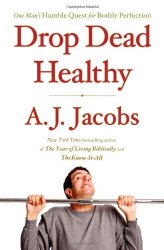 Drop Dead Healthy by A.J. Jacobs was a very interesting read. This book follows A.J. over two years as he works to become the healthiest man in the world. Each chapter focuses on a different body part. The stomach, as you can imagine, shows up quite a few times.
He explores pretty much every health trend out there from a juice cleanse to the caveman workout. He tries the extremes, giving equal emphasis to each without discrimination. His writing is engaging and witty. I often found myself laughing out loud, especially when he was taking a pole dancing class.
Each chapter was devoted to making that organ the healthiest he could. It was interesting to learn more about how the human body functions. I even changed a few of my habits after reading this book.
There were a few chapters I could have done without. I learned a little bit more about A.J. than I was anticipating or wanting to know. Other than that, I really enjoyed reading this.
My friend recommended this author a while back, but I haven't gotten a chance to read anything by him until now. I was lucky enough to receive an advance reader's copy to read and review, and I'm certainly glad I did!