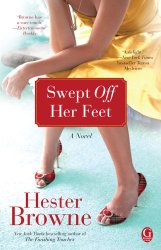 Swept Off Her Feet by Hester Browne told the enchanted tale of Evie Nicholson is head over heels in love with all things of the past. Evie is an antiques appraiser who spends more time imagining the stories surrounding the antique items than finding the monetary value in them much to the chagrin of her boss.
Evie comes from a family which believes that anything older than a few years should be thrown away. Evie feels the stark difference between her family's extremely organized lives and homes. When her sister Alice offers her the opportunity to appraise an old Scottish castle called Kettlesheer rumored to be filled with incredible antiques, Evie jumps at the chance. It also helps that Alice's boyfriend and the man Evie has a bit of a crush on will be accompanying her up in preparation for the annual ball thrown each year at Kettlesheer.
Upon arrival, Evie finds herself in love with the house and the pieces it contains. She is in paradise, imagining herself regally descending the staircase for a ball or being escorted by a handsome man. One thing she's not so sure about is Robert McAndrew, the current heir to the castle who wants nothing more than to get rid of all the "junk" the castle contains.
I loved this book! It was playful and imaginative. Evie was comical and loveable and someone I could easily relate to. I mean what girl who's read Pride and Prejudice or seen Downton Abbey hasn't had a few fantasies as the female lead? I know I have. The supporting characters were great with the exception of Ingrid and Shelia whom I kept mixing up.
I liked Robert even if I didn't always know what he was thinking or his motives. There were a lot of things I thought clarification would have greatly helped move the story along. But overall, I really enjoyed reading it. It's a very hard book to put down!