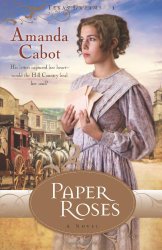 Paper Roses by Amanda Cabot begins with Sarah Dobbs journeying from Philadelphia to San Antonio with her little sister Thea to marry Austin Canfield, the man who has wooed her with his prosaic letters. She not only accepted his offer of marriage because of the beautiful words he wrote her but because she needed to escape the gossip and recrimination she has faced back East.
When Austin's brother, Clay is the one to greet her, Sarah knows that something is not right. And it isn't because Austin is dead. Sarah knows she can't go back East. Not after what happened. She has to find a way to survive in this new town and provide a home for her sister.
Clay doesn't know what to do with Sarah. He never wanted her or her sister to come in the first place. Clay is stuck working his father's ranch, something he can't wait to leave behind. But he can't do that until he has gotten revenge for his brother's murder.
This was a book about the importance of forgiveness. Both Sarah and Clay carry around a deep hurt and have turned that into anger at those who have caused them this pain. In doing so, they are not only hurting themselves but preventing anything from happening between them.
Both Sarah and Clay were very strong people with real problems. They had to deal with a lot and did it well. Their struggles were real and their approach was incredibly human. It took time and support to help them heal their wounds. This book had mystery and love and adventure. The supporting characters were well developed and added greatly to the story. I loved the faith woven throughout this book. It had the perfect presence without being too overwhelming. This was a beautiful story and one I heartily recommend.