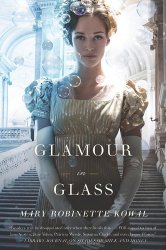 Glamour in Glass by Mary Robinette Kowal is the sequel to Shades of Milk and Honey so if you have not read that one yet, it might be wiser not to read this review as it might contain spoilers. This novel picks up not long after Jane and Vincent are wed and follows them as they travel for their honeymoon to Binché, Belgium where Vincent's good friend and fellow glamourist, M. Chastain, lives.
Once there, their honeymoon is anything but. Jane finds herself in a situation where she is unable to perform glamour and fears that her husband's persistent absences and shortness with her are signs that he does not love her without her glamour ability. When Jane discovers the real reason for his actions, she learns that they are not safe with Napoleon on the march.
This was a nice sequel. I enjoyed getting to delve a little deeper into Vincent's character even if I didn't particularly like him in the first half of the story. I didn't think he treated Jane well at all, no matter what secrets he was keeping from her. I did enjoy Jane's growth as a character. The author put her in an interesting situation, and I liked watching Jane figure out how she would handle it.
I do enjoy the author's writing. She able to seamlessly weave in just the right amount of humor to alleviate some of the more serious situations so that things do not become too heavy.
This is an extremely quick and easy read for those who want something a little lighter when just the right amount of magic mixed in!