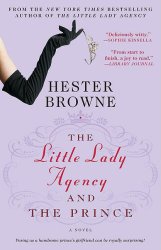 The Little Lady Agency and the Prince by Hester Browne is the final book in her Lady Agency series. Melissa Romney-Jones is back in London, newly engaged and trying to figure out what is going to happen to her agency once she moves to Paris to live with fiancé, Jonathon Riley. In the meantime, she has taken on one last big client, the prince of a small country who needs to straighten out his ways if his grandfather and his family are going to be able to reclaim their castle.
Prince Nicolas von Helsing-Alexandros is overly flirtatious, and the epitome of a spoiled rich man who believes he can do whatever he wants and get away with it. Melissa, bedecked in her blonde wig and the ensuing persona of Honey, certainly has her work cut out for her with Nicky. But as she works to bring out the gentleman in him, she finds herself becoming pulled in by his charm. And when her longtime friend and flatmate starts spending most time with a woman Melissa set him up with, she doesn't know what to feel.
I loved Melissa in this final novel. She was just as witty and engaging as ever. I found her a little more vulnerable in this one too. She finds herself torn between three men, and I think she makes the right decision in the end even if I was left wanting more. An epilogue would have completed this book for me.
Nicky is engaging as well. I liked seeing his transformation from sleazeball to vulnerable to gentleman. It was nice to see that these characters have layers and can change and grow. I think Melissa grew a lot in this book. She is finally able to stand up more for herself and what she wants. She is such a heartwarming character that you can't help but root for her. Excellent series!