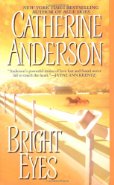 Bright Eyes by Catherine Anderson begins when Zeke Coulter's house is vandalized by a young boy. Zeke chases after him and meets his single mother, Natalie Patterson. Zeke is instantly drawn to her but knows that the damage her son Chad caused can not go unpunished so he strikes a bargain with her for Chad to work off the damage. As Zeke gets to know Chad, he sees that Chad is not a bad kid just one who needs encouragement. Zeke finds himself not only falling in love with Natalie but with her son and daughter as well.
Natalie struggles as a single mother, trying to support her two children. The nightclub she owns is not doing as well as it used to, so when Zeke appears in her life, he's a bit of fresh air. Things seem to be going well for once, until Natalie is suddenly accused of murdering her ex-husband.
My friend lent me this, and I really enjoyed reading it. The characters were very believable, and the plot was realistic, even with Natalie's accusation of murder. Anderson made sure there were conflicts and hardships for her characters to overcome before they could finally be together. The writing was good, and I wouldn't mind reading another novel by this author.