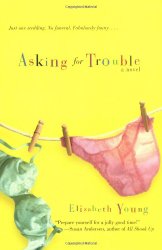 Asking for Trouble by Elizabeth Young had me in a constant state of laughter. Sophy's younger sister Belinda is getting married in a few weeks, and her mother is putting pressure on her to bring her boyfriend Dominic to the wedding. Sophy's mother has a bit of a rivalry with her neighbor Maggie Freeman and is always looking for a way to show her up, and having one daughter married and one with an attractive boyfriend would gain her some major points.
The only problem is that Dominic doesn't actually exist. Sophy created him to get her mother off her back. She hasn't quite found a suitable way to dump him in enough time before the wedding without totally devastating her mother. She's a bit desperate, and so when her flatmate Ace shows her an ad for an escort service she decides to give it a try.
The guy the agency supplies her isn't exactly what she pictured Dominic to look like, but she really can't be choosy, but then he ends up in the hospital. The agency supplies her with a replacement, but Sophy doesn't have a chance to meet him until he arrives at her at her flat the day of the wedding.
Josh is everything Sophy pictured Dominic to be. Sophy's convinced though that he thinks she desperate and could never like someone with "wobbly bits" like her. Hilarious encounter after hilarious encounter ensues and Sophy tries hard to not let Josh set off any flutterings in her, but it gets increasingly harder the more time they end up spending together.
This is one of the most hilarious books I've read. It's full of British humor. Sophy can never seem to get it right, and Josh grows more and more appealing as the story moves along. Mixed signals keep getting thrown around, and I wasn't sure if everything would fall in place to ensure a happily ever after. This is one of those books that's incredibly hard to put down especially when it's 2:00 in the morning and the chapter's ended with a cliffhanger.
This book is the basis for the movie
The Wedding Date
,
and since I love the movie I was more than excited to pick up the book. Those who have seen the movie and liked it will love this. Although the book is very different from the movie but no less enjoyable. I recommend both to anyone who's looking for a bit of romance and some great laughs. I got that tight feeling in my chest often when something absolutely adorable happened in the novel, and all those who enjoy that feeling should check out this book and watch the movie.