I loved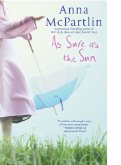 Sure as the Sun by Anna McPartlin. Harriet Ryan has just had an anxiety attack before her second wedding attempt to the same man. She has no idea why it's happening because she loves her fiancé James and wants nothing more than to have a life with him, but something inside her seems to be holding her back. She just doesn't know what.
Harri's twin brother George has a feeling that her attack is a lot more than just cold feet so he brings it up to his parents who finally admit to hiding a secret that has the potential to completely tear their family apart.
Along with the story of Harri and George, we get to read the diary entries of a teenage girl who has seemingly nothing to do with the main plot line except for the connection of a couple of characters.
I discovered my love for Anna McPartlin when I read her first novel,
Pack Up the Moon
. She has a wonderful way with words and creating characters who are far from perfect and usually have deep issues that need resolving before they can continue on with their lives. Her books are more journey's for her characters to come to terms with themselves so they can continue on with their lives.
This novel was just as moving as her other two novels. I fell in love with all the characters as the supporting cast was given as much depth as the main characters. And each person had their own problems and had to find a way to deal with those as well as be there for Harri when she gains the shock of her life.
I cannot wait to read Anna McPartlin's next novel. She's such a dynamic writer whom I am unable to get enough of. I encourage you to read this one along with
Pack Up the Moon
, and
Apart From the Crowd
. All three are excellent novels.