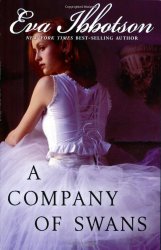 A Company of Swans by Eva Ibbotson tells the story of Harriet Morton whose seemingly only joy in life is ballet. She is strictly watched over by her spinster aunt whose frugal nature causes everyone to dread attending her dinner parties and her widow father, a professor who took Harriet out of school when her teacher dared to suggest possible colleges for her.
Harriet, surrounded by gloom and dressed in the most hideous clothes allows ballet to be her outlet. She never imagined that a Russian man would desire her to be in his ballet corps on its way to perform in the Amazon. Her father quickly shoots down the idea, as no daughter of his, especially one who is about to be engaged to the entomologist Dr. Finch-Dutton, is going to bring shame on the family by dancing in South America.
Harriet, having lost ballet, becomes forlorn until meeting a little boy as sad as she is and learns of the "secret boy" who is rumored to be in the Amazon himself. Harriet devises her plan and is soon on a ship with the rest of the ballet company bound for the rain forest.
Once there, she finds beauty and clarity and can picture herself nowhere else, doing nothing else, especially when she meets Rom Verney, the owner of the grandest opera house where she dances as a swan in Swan Lake. But Harriet's life begins to catch up to her, and she is at a loss as to what to do.
This was a lovely story which gave a look into the Amazon during the early 1900s. The supporting cast was wonderful, especially Marie-Claude, one of Harriet's ballet friends who can speak of nothing but her love and devotion to her fiancé Vincent and the restaurant they are going to open. Harriet has so much spirit, and it spills forth from the pages as she comes alive. Rom is the perfect leading man, noble and generous and a little broken on the inside.
Eva Ibbotson is a wonderful author. This is the third book I've read by her. A Countess Below Stairs and The Morning Gift both had me glued. She's a master at writing historical fiction of all kinds and keeps me on the edge of my seat, waiting to see if everything will turn out all right in the end.