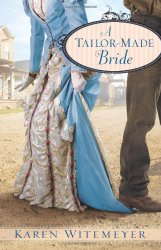 A Tailor-Made Bride by Karen Witemeyer was a very cute read. Hannah Richards is a dressmaker and has just been given her own shop in Texas from a wealthy patron. She travels to Texas to open her shop, hoping to attract a lot of business with her well-tailored and flattering clothes. What she didn't expect was J.T. Tucker.
J.T. owns the livery across the street from Hannah's store and wants as little to do with her as possible. Not only did she now occupy the store he has been trying to buy for years, but she's a dressmaker. She makes clothes to stroke the vanities of women. Unfortunately for J.T. he is constantly finding himself around her and is slowly discovering that she might be different than she thought she was.
This was a very cute book with strong characters. It focuses a lot on determination and overcoming prejudices. Hannah is a lovely character who works hard and puts her trust in God. J.T. starts off incredibly bitter, but his struggle to stay from Hannah was fun to read. This was a very fast read, and I found myself drawn into the story, wanting to read until the end. I got this in ebook form and read it while working out, but found myself at home reading it too just because I wanted to know what would happen next! This book was well-written, and the characters were well-formed. This is definitely a fun and great read!