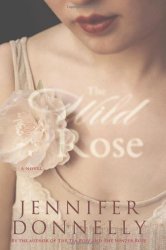 The Wild Rose by Jennifer Donnelly is the third and final book in her series about the Finnigan family, following The Tea Rose and The Winter Rose. This is the story of the youngest Finnigan, Seamus, known as Seamie. His story will Willa Aldan actually starts in the end of The Winter Rose where a terrible accident on Kilimanjaro leaves Willa without a leg and a desire never to see Seamie ever again.
The book follows them as they are separated and meet over and over again. Willa has a huge chip on her shoulder which she gained the instant she lost her leg. She has fallen into great despair knowing that she'll never be able to climb a mountain again. Seamus moves on with his life, marrying a woman to forget Willa.
This was a really hard book for me to rate and review. I loved the first books so much that I had very high expectations and was let down in an extreme way. Neither Seamie nor Willa were characters I had any respect for. They obviously loved each and, as such, went and slept with everyone else and turned to drugs. They were incredibly selfish and didn't care that they ruined countless lives. Their remorse didn't even feel real to me.
This was even more disappointing because I really loved Willa and Seamie in The Winter Rose. I feel as if Jennifer Donnelly pretty much ruined them for me. What I did enjoy about this book was the updates on the main characters from the previous two books. It was nice to see glimpses into their present lives.
So what do you think? Did you read this book? Any of the others?