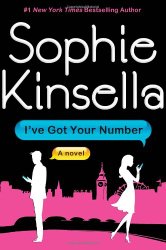 I've Got Your Number by Sophie Kinsella was such a lovely read! The moment I finished reading this book, I sent a text to my sister telling her she has to read it! You know a book is good if this happens. I've read a lot by Sophie Kinsella, not all of which I have equally liked. I loved this book, and actually, it's my favorite of hers so far!
The book begins with Poppy frantically searching a hotel conference room which she has just lost during an impromptu fire drill. Her phone gets stolen, and she's about to have a total meltdown. But then she sees a phone tossed into a trash bin, and she just can't resist picking it up and claiming it as her own. This is when the hilarious stuff really begins.
I want to tell you all the funny parts that I absolutely loved, but I don't want to ruin them for you so I won't. I thought Poppy was incredibly funny and just a loveable character. She was ridiculous in a realistic way. She is a very engaging character. I had to force myself to put this book down so I could get at least a few hours of sleep. Don't worry though because the next chance I got, I inhaled the rest of this book.
This was a real page-turner. I absolutely loved it! It had some romance, some drama, and lots of comedy! Fans of Sophie Kinsella will love it!