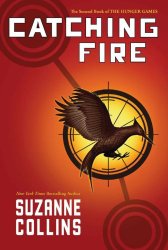 Catching Fire is the second novel in The Hunger Games trilogy written by Suzanne Collins. This one takes up pretty much where the first one left off. Katniss and Peeta have returned to District 12 where they have settled into their houses in the Victor's Village. They are about to embark on their Victory Tour of the other districts when Katniss receives a startling visit from President Snow who tells her that even though she has won The Hunger Games she will not be able to live a peaceful life. At least not while the threat of rebellion is upon them. Katniss finds herself having to fall into the role she thought she had left behind to keep all the people she loves safe.
This one was just as much a page turner as the last one was. I loved getting to see more of Katniss outside of the arena. This book is more intense than the first one, in my opinion. There is so much going on and much much more at stake. All the themes in the first book were amplified and seen in a different light. I got to see more of the mindset of the Capitol and a glimpse into the other districts. So many things happened throughout this book, it's really hard to believe this was just one book and not two or three.
I had so many questions while reading this that I couldn't possibly put it down until I had gotten to a whopper of a cliffhanger! That's right, this ends with one heck of a cliffhanger. This is why you must have the sequel sitting beside you once you get close to finishing this one because you'll want to start it right away. I don't really want to say more because I would give something away, and I wouldn't deny you the pleasure of reading it for yourself. So please go out and get this series (it's best to have all three on hand before starting) and read them!
Until next time, happy reading!