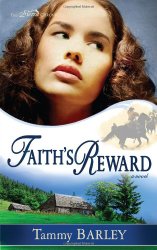 Faith's Reward by Tammy Barley concludes the journey of Jess and Jake Bennett and is just as good as the first two novels. Jess is expecting their first child after months of trying, but her life has not gotten any easier. Their cattle they fought so hard to save threaten to freeze to death, and through trying to save them Jake catches pneumonia. Though winter ends, and spring brings forth much needed rain, their troubles are not over. Southerners are still being threatened, and Jake knows that Jess and their ranch won't truly be safe until they're stopped.
Meanwhile, Jess knows that their ranch is on the brink of being lost and decides to hunt down her lost inheritance and sets off on a dangerous journey back to the town where she lost her parents and baby sister to a fire meant to kill her as well.
I love love LOVE! this series! I cannot say too many good things about it! This book was just as amazing as I was expecting. All of the characters are layered, and I was still learning more about Jake and Jess in their third novel. Tammy Barley creates believable situations and turmoil to put her characters through to help them grow. I wish that I could read about them forever! Their lives are so interesting and intriguing. I would recommend this book to everyone and have! I cannot wait to read more by this author in the future!