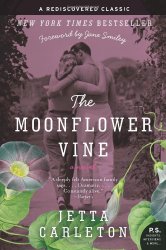 The Moonflower Vine by Jetta Carleton is the story of a family living and growing in rural Missouri. Matthew and Callie have four daughters, each one distinct, following a path truly her own. Matthew is a schoolteacher, more than willing to escape into his work and books even if it means his family comes second. Callie is loving, hardworking and wants nothing but the best for her family. Jessica is the tomboy of the family. Leonie is the good girl, wanting nothing more than to please her parents and do what's right. Mathy is the wild child, not content unless she's off exploring the world. Mary Jo is the baby of the family, growing up in a time so different from the rest of her sisters.
This is a timeless novel where each character carries a secret burden. Each comes to terms with his or her faults and learns to live with them and sometimes in spite of them.
This was the most realistic novel I have ever read in my life. The characters jumped off the page and became part of this world. As the novel went on Jetta Carleton revealed more and more about her characters from multiple points of view so that each layer was peeled away. This novel was rich with life and so incredibly captivating. I'm so glad I listened to the reviews saying that this book will stick with you because I feel changed by this book, and I know that I will remember it always. Do yourself a favor: go out and read this book. You will not be disappointed. I certainly wasn't!