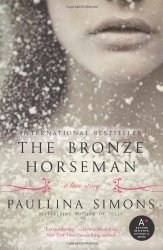 The Bronze Horseman by Paullina Simons took my breath away. Absolutely and completely took my breath away. The story opens on June 22, 1941, the day Russia goes to war with invading Germany. It is on this day where everything is in chaos that Tatiana and Alexander meet. Tatiana is a young, innocent girl, and Alexander is an officer in the Red Army. Nothing is certain in their lives except for their love for each other.
Tatiana struggles to hide her love from her sister Dasha who is convinced that Alexander is the one for her. Add in the blockade of Leningrad, and Tatiana and Alexander have incredible hurdles to get over. I don't want to say anymore, plot-wise as I don't want to spoil anything for you. I won't even tell you how they meet because it's just so magical and carries throughout the entire book (and series for that matter).
I have loved this book since the instant I began reading it. Tatiana and Alexander climb from the pages and into reality through Simons' words. You go through their struggles, their hunger, their longing, and their love. You feel every emotion as if it were happening to you. You cry with them, and laugh with them, and love with them. Their story is truly epic. One that will survive forever.
You will not want to put this book down once you start. I brought it with me everywhere. I read it at the gym, at stoplights, on work breaks, before bed, eating breakfast. I wanted to read it again the instant I finished it. And the last few lines are so beautiful that you won't be able to stop your tears. Don't worry I won't spoil them for you.
I spent such a long time trying to find some quotes to share with you that won't lessen the magic of the story, and I could only come up with one:
"They kissed as if in a fever…they kissed as if the breath were leaving their bodies."
I think it embodies the relationship between Tatiana and Alexander perfectly. So beautiful. So incredible. So amazing. If I could experience a life such as theirs, I don't know if I could survive, but if I have a man who loves me the way Alexander loves Tatiana nothing could tear us apart.
Please do me a favor, do yourself a favor, and read this book. You will not be disappointed. I know I wasn't.