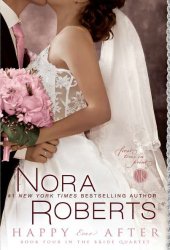 Happy Ever After by Nora Roberts is the conclusion of the Bride Quartet. This is Parker's story. Parker and her three best friends run Vows, the all-inclusive wedding event company. Parker is the glue holding everyone together. She fields calls from frantic brides, diverts disaster, and makes sure everything is pulled off without a hitch. But with so much going on is she leaving herself open to falling in love?
Enter Malcolm Kavanaugh, one of her brother's friends. He's everything the polished Parker isn't. He's rough around the edges and speaks what he thinks. He irritates and turns Parker on all at the same time. Parker has the perfect vision of her life, but the only question is is whether Malcolm is a part of that vision.
I think that by the time Nora Roberts got to Parker, she just wanted to finish the series so she could go on to something else. The novel felt really thrown together and didn't seem to have been thought out well enough. I was really looking forward to this one because Parker and Malcolm are so different, and their previous encounters sent sparks flying. I felt as if their characters were almost completely different in this one, especially Malcolm.
I did like reading it. It was nice and fluffy, and I wanted to see how everything turned out for the four friends. It was an okay conclusion. It could have been a lot better. I think Nora Roberts lost something in this book. I hope she can find it again!