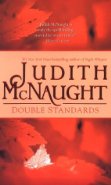 Double Standards was another delightful novel by Judith McNaught. Lauren Danner's father is in ill-health, and with his medical bills mounting, Lauren knows she has to do something to help with his finances. Having recently graduated college with a masters in music, Lauren has lost her desire to be a concert pianist. Instead she finds herself interviewing with a distant relative who heads a business that is slowly slipping through his fingers as a result of competition with Sinco. Seeing an opportunity in Lauren, he hires her to spy on the competition.
Spying doesn't sit well with Lauren, and she vows to botch up her job interview with Sinco, but finds herself hired when Nick Sinclair, president of Global Industries which owns Sinco, calls a few people and gets her another interview. When offered the job, Lauren doesn't turn down the opportunity to work near Nick. Soon she finds herself falling in love with him, but he sees her only as his next conquest.
Lauren and Nick have wonderful chemistry between them, and as the novel progresses, it's hard not to feel for both of them. Lauren is strong, and, after being hurt by Nick, she works hard to make sure he doesn't again. Nick, though his actions don't always speak highly of him, is still likable, especially after his childhood is revealed.
I enjoyed this novel. Though, I still think I like her historical novels the most.