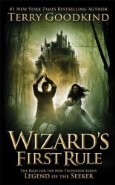 Wizard's First Rule by Terry Goodkind is the first novel in the series The Sword of Truth. Richard Cypher is an ordinary woodsman until he saves a beautiful woman in white. From that moment onward, Richard's life is going to change forever. Richard finds out that Zedd the man who has mentored him his entire life is actually a wizard, a very powerful one at that, who soon names Richard the next Seeker of Truth. Along with Zedd, Kahlan (the woman in white), and his loyal friend Chase, Richard sets out to cross the boundary that separates Westland from the Midlands where Kahlan is from to stop the evil Darken Rahl from finding all three boxes of Orden which would allow him to rule all life.
On their way, Richard encounters countless creatures and people he could never have dreamed existed. He also finds himself falling in love with Kahlan who knows that there can be nothing between them.
I first decided to read this book after watching The Legend of the Seeker, the television series which is based off of this book series. I enjoyed the show which led me to believe that I would enjoy the books. I wasn't wrong. I enjoyed this book a lot, even if the show and it differ greatly in some respects. I thought the relationship between Kahlan and Richard developed more realistically in the novel. There were some parts in the book that I thought were entirely unnecessary and make me ill to think about them. Because of them, I would not recommend it to someone who has not reached high school.
I haven't read a fantasy book in a while and was not disappointed. I have the next two books and will read them after a few other books I have in mind, only because the book is long and some parts gruesome. I need something lighter first before I delve back into the life of the Seeker.