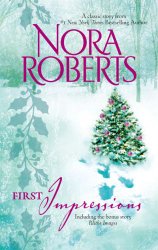 First Impressions by Nora Roberts was actually two stories in one. First Impressions was my favorite of the two. Vance Banning moves to a rural town to try to get away from his stressful life and find some peace. He doesn't expect to meet his neighbor Shane and find himself immediately attracted to her. The two are drawn to each other but when secrets are found out, their love might not be able to overcome the problems they bring.
Blithe Images is the second story, and didn't really appeal to me as much as the first. Hilary is a model who is doing well in her career and is often an exclusive contract with Bret Bardoff who owns a magazine with highest acclaim. He is sometimes difficult to work with, but Hilary finds herself craving all of him including his love.
I enjoyed First Impressions more because the characters were more realistic as well as the plot. I wasn't really a fan of Bret from Blithe Images so that drew me away from the story. He wasn't the best hero to read about. I would definitely recommend the first story but am less inclined to recommend the first.