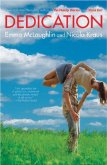 Dedication by Emma McLaughlin and Nicola Krauss is about Kate Hollis and the man she wants to make regret ever leaving her. Jake Sharpe has made it big, using Kate's life to write award-winning lyrics of the songs on his platinum albums. Kate Hollis has waited thirteen years to confront him and finally has the chance when her best friend calls her up in the middle of the night to tell her he's back in small town Croton Falls where they grew up.
Kate barely thinks of what she's doing when she hops on that plane home a few days before Christmas. Once home, everything seems to be going wrong. Her luggage didn't make it onto her plane so she is left with a few glittery dresses and out of date makeup from her emergency bag. Her parents are less than pleased to see her, knowing she is not there for them (they're supposed to be vacationing as a family a few days later) but for the man who turned Kate's world upside down.
As Kate makes her way through the next couple days as she finds a way to face Jake again, we are taken back in time to the moment Kate first moved to Croton Falls in sixth grade and laid eyes on Jake Sharpe. As the hours tick by in the present so too do the years of her past.
I loved how this story was set up with alternating chapters in the past and present. It was a nice way to show their past without reading some long summary chapter in order to know the history of their relationship. It was also nice to see that Jake Sharpe wasn't the only things Kate had to come to terms with.
Kate is a strong character whose only misfortune is having Jake Sharpe as her Achilles' heel. I kept reading to find out what would happen in the end and if Kate did what I wanted her to do, and she didn't disappoint.