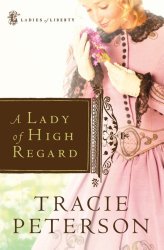 I thought A Lady of High Regard by Tracie Peterson was an enjoyable read. Mia Stanley is unlike other girls her age as she has little desire to marry and does what she can to play matchmaker to her friends and fellow socialites. Against her family's desires she works for Godey's Lady's Book magazine. While there, she finds herself involved in the plight of seamen's wives who are mistreated when their husbands are away at sea.
Mia seems to always get herself in a sticky situation and, by doing so, might be losing the respect of her best and longtime friend Garrett. The two are slow to discover their feelings for each other and are unable to find a proper way to express them if at all.
While I liked this book, I didn't like it as much as some of the other historical fiction books I've read. I did enjoy that we were able to see through both Mia and Garrett's eyes. I loved Mia's independence and tenacity when it came to her political ideals, but I felt that she should have used some of those qualities to tell Garrett what she truly felt about him.