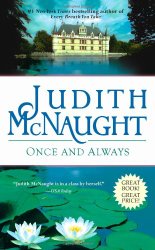 Once and Always is another wonderful novel by Judith McNaught. Victoria Seaton has just lost both of her parents in a tragic accident and is brought across the ocean from America to England by a distant relative who is connected to her in a way she had never known. Once there she meets Jason Fielding, a man without a happy past.
Victoria is unsure of how she fits in in the strange country and find herself completely baffled by Jason whose emotions change with a drop of a hat. She tries to find a way to keep herself from being a burden as she waits for her childhood love Andrew whom she is practically engaged to to come for her. Time continues to pass without any word from Andrew, and Victoria finds herself becoming increasingly intrigued by Jason. Every time they get closer something comes up which seems to almost completely wipe away any progress they've made.
Just as I enjoyed the other books I've read by Judith McNaught I loved this one. Victoria was a lively main character who offset Jason perfectly. Both came from different backgrounds and have to overcome many hurdles before they can be happy together. I couldn't help but love Jason even if he couldn't seem to love himself.
I love how Judith creates two characters who are so different yet so perfect for each other and place them together. But I like how their journey towards each other isn't easy. There is usually more than one obstacle they need to conquer before they can finally be together and happy. Wonderful story. And the quote which incorporates the title is heartwarming and one of my favorite parts.