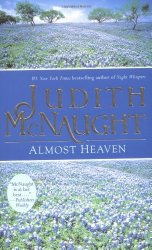 Almost Heaven by Judith McNaught was truly heaven. Elizabeth Cameron's reputation has been ruined two years prior, and she lives as an outcast of society. Her parents are no longer alive, and her father left her to deal with his debts. Her brother has disappeared, leaving his debts along with his father's. Elizabeth struggles to pay for her home and loyal servants who are the only family she has.
Elizabeth's uncle has decided he needs to marry her off and as soon as possible and so sends out letters to any man who had offered for her two years during her first and only season. Elizabeth has no desire to marry any of the men who reply, especially not Ian Thornton, the very man who ruined her reputation.
Being back in his presence after two years brings back up all the passion that had filled them those two years ago, but both remain wary of the other's motives. Neither is sure that if they should follow what they are feeling for each other it won't end in disaster like it did the first time.
Judith McNaught is one of my favorite authors and wrote one of my favorite book
Whitney, My Love
. She creates characters which are incredibly realistic and likable even with their flaws. Elizabeth was a strong female lead and Ian's actions just made me want to melt half the time. I could feel the passion and emotions between the two, and I could barely stand to put the book down. I couldn't stop reading until I was sure that all was going to end well.
I loved this book and cannot wait to read more by her because I know if they're as good as 
Almost Heaven
 and
Whitney My Love
 they'll be amazing.