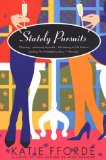 Stately Pursuits by Katie Fforde tells the story of Hetty who has just found her boss whom she's having an affair with in bed with another woman. So jobless, carless (due to a fit of rage), and homeless, Hetty allows her mother to convince her to housesit one of her elderly distant relative Samuel's stately home while he recovers from surgery. Once there she finds new friends in Caroline, a woman who knows everyone and anyone, and Peter, a carpenter who develops a huge crush on Hetty. With their help and that of the rest of the community, Hetty sets out to save the manor which stands to be torn down and turned into an amusement park by Samuel's nephew and heir, Connor.
When Conan the Barbarian, as the town affectionately calls him, arrives unexpectedly, Hetty finds herself in a bit of a predicament. She has fallen in love with the house and will do almost anything to save it. But she's also getting to know Connor and learning he's not as bad a person as she thought he was. And now she doesn't know whose side she should be on or who is even on her side.
Hetty is a wonderful character who is full of life and is trying to find herself when all around her people are telling her what to do. I really admire all the hard work she puts into fixing up the manor, and I think her feelings for Connor grow in a very realistic way. And I love Connor as well as he is revealed not to be a barbarian as everyone thinks but just as human as the rest.
I thought this was a wonderful book. I couldn't help but love Hetty and understand all the conflict she goes through in trying to find her way.