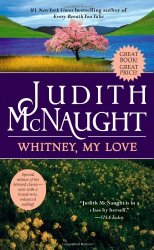 Whitney, My Love by Judith McNaught has just become my favorite book of all the books I've read so far in my life. Whitney attempts everything possible to win over the love of Paul and as a result is sent off by her annoyed father to her aunt in Paris to become an accomplished woman. In Paris, Whitney has men falling at her feet, but her heart remains with Paul. So when she is summoned back to England, she begins her second attempt to get Paul to offer for her, but this time, she acts with more decorum and uses all she has learned in Paris to do so. But Clayton Westland stands in the way. Unknown to Whitney, Clayton's real name is Westmoreland, and he is the Duke of Claymore and also her fiancé. Whitney and Clayton butt heads often but find themselves just as often in passionate embraces. But Whitney is unwilling to give up Paul for this man who is going to force her to marry him.
Whitney and Clayton jumped off the pages. The tension between them was achingly real. Every time I thought they had worked it out Judith McNaught threw in another problem which they both had to overcome. The characters came alive and developed as the plot progressed, and I couldn't help but sympathize with both Whitney who is being forced to marry a man without her consent and Clayton who struggles with Whitney's many attempts to push him away. The emotions are readily felt, and I had to physically put this book down when I had family obligations only to pick it back up the moment I could. And I almost started reading it again, but had to stop myself.
This was a fantastic book, a wonderful piece of historical fiction. Judith McNaught is now high on my list. She is an incredible writer who knows how to create realistic characters who change and grow in such a way that I have no choice but to change and grow right along side of them. I don't know what else to say besides this is my favorite book, and it will be hard to top.